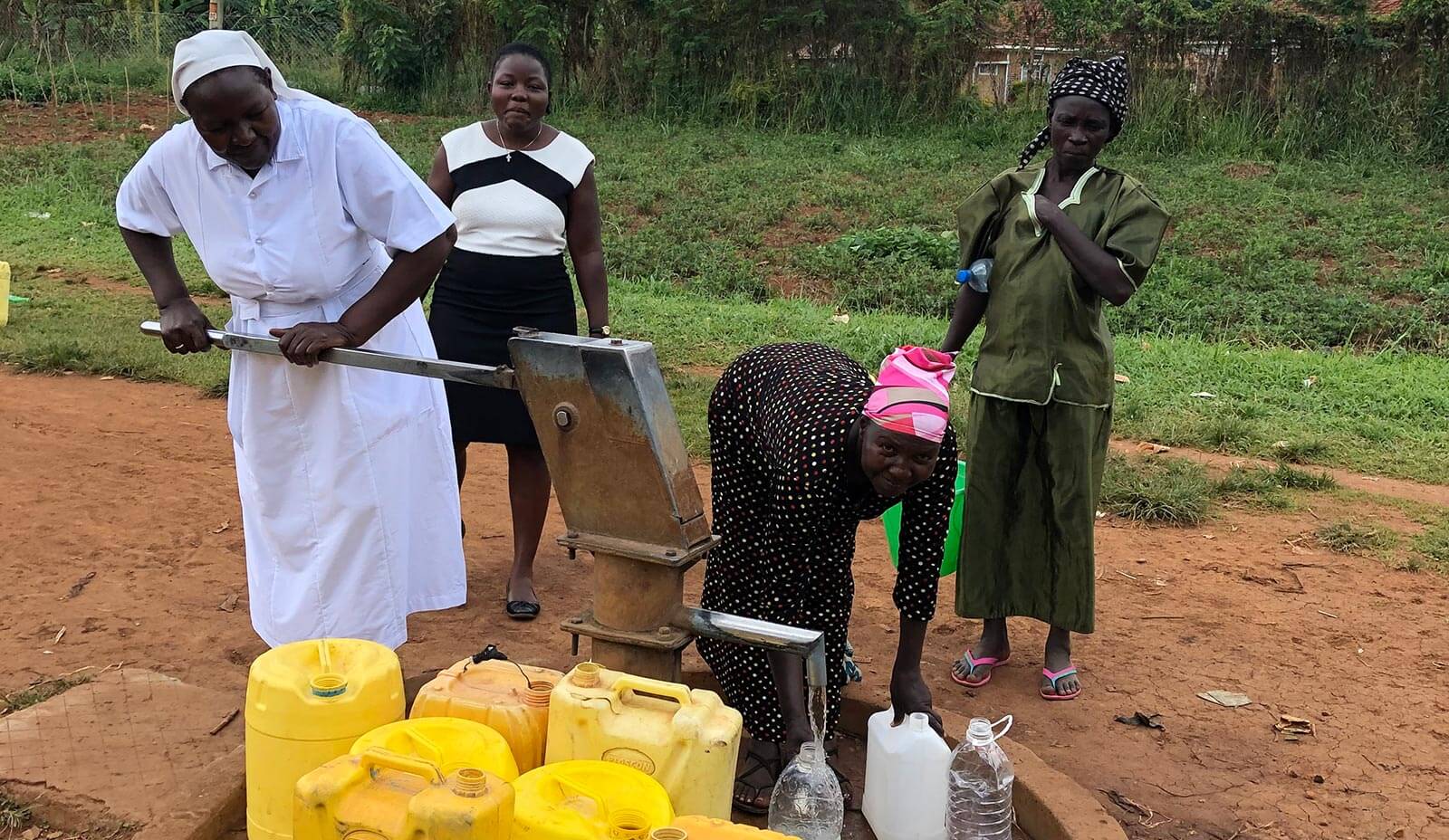 CREDIT-Lindsay Denny Global Water 2020
WASH FIT Fact Sheets
WASH FIT (the Water and Sanitation for Health Facility Improvement Tool) technical fact sheets.
Fact Sheet 1:
Strengthening the resilience of WASH services in health care facilities to climate impacts 
The impacts of climate change (e.g. higher temperatures, more intense storms and cyclones, droughts, floods, sea level rise) are expected to increase risks to health, particularly in low- and middle-income countries. The impacts of weather variability often result in increased demand for health services when the functionality of health care facilities, including water, sanitation and hygiene (WASH) services, is even more important. All new health care facilities should be built with climate-resilient WASH services, and efforts should be made to retrofit existing facilities.
Fact Sheet 2:
Gender equality, disability and social inclusion (GEDSI)
The design and management of water, sanitation and hygiene (WASH) services in health care facilities must consider a variety of user needs. Users include women during childbirth; menstruating women; infants and children; older people; people with disabilities; people experiencing injury, illness or incontinence; and female staff. The planning, design and management of WASH services in health care facilities must consider accessibility, safety, privacy, social appropriateness or acceptability, and the comfort of these many different users.
Fact Sheet 3:
Safe plumbing for WASH services in health care facilities 
Plumbing is an essential service that needs to be considered in the overall planning, operation and maintenance of water, sanitation and hygiene (WASH) services in health care facilities. The provision of a safe, reliable, resilient water supply – including reliable access to water for handwashing; provision of clean, functional toilets; and assurance of safe wastewater management (including disposal) – is vital to protecting the hygiene and safety of patients and staff in the health care facility.
Fact Sheet 4:
Safe and sustainable health care waste management
As part of broader water, sanitation and hygiene (WASH) and infection prevention and control (IPC) efforts, safe and sustainable management of health care waste reduces health care–associated infections; increases trust in, and uptake of, services; reduces harm to the environment and nearby community; and decreases cost of service delivery. In least developed countries, health care waste management is often an underfunded and neglected area within the health service.
Fact Sheet 5:
Hand hygiene improvement: a multimodal approach 
While working in health care facilities and during care delivery, the hands of health workers may be contaminated by potentially harmful microbes from different sources. Some of these microbes can potentially cause disease outbreaks, and some bacteria may be resistant to antibiotics. Hand hygiene can reduce the spread of these microbes – it protects patients, their families and staff. Across all health care facilities, from high- to low-income countries, hand hygiene compliance is often below 40%, and can be as low as 0%. Achieving higher adherence rates remains a challenge. Infrastructure and resources must be in place to ensure that people perform hand hygiene at the right time, every time.
Fact Sheet 6:
Environmental Cleaning
Environmental cleaning within health care facilities is important in order to achieve 'hygiene' (the 'h' in WASH) and is one part of ensuring a safe health care environment and in preventing healthcare-associated infections. Environmental cleaning is a part of infection prevention and control (IPC) standard precautions, which are the minimum practices that should be in place at all times in all health care settings.