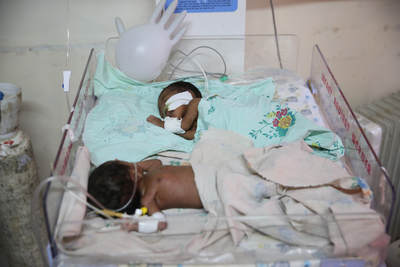 Risk Remains on the Inaugural UN Patient Safety Day
STORIES |
Global Water 2020
Global Patient Safety at Risk on the Inaugural UN Patient Safety Day
By Susan Davis
When 17 million women give birth in healthcare facilities without adequate water, soap and toilets every year, that's a colossal global health problem. I've seen rural healthcare facilties with unsanitary conditions, but my colleague, Lindsay Denny from Emory University's Global Center for Safe WASH (Water, Sanitation, Hygiene), has visited hundreds of healthcare facilities around the developing world. She describes a typical Neonatal Intensive Care Unit (NICU):
"It wasn't the worst I'd seen — but conditions were no less jarring. Twenty-five tiny newborns were three and four to a bed. The only sink in the NICU was filled with dirty water with no soap in sight; an empty bottle of hand sanitizer near the door…An intern on duty told me it wasn't uncommon for one of the babies to contract an infection, which rapidly spread to others. Staff were doing their best in conditions they knew were inadequate. They can't wash bedding between patients or adequately clean up blood from medical equipment."
The risk to mothers and newborns, posed by the overwhelming lack of WASH inside hospitals and healthcare clinics, is devastating. We know that simply washing hands with soap before touching babies can prevent more than 40 percent of neonatal deaths. In my Master in Public Health program in the late 1990s, we studied all kinds of environmental health hazards. I don't remember dirty hands being one of them. We took hygiene in hospitals for granted.
Not being able to maintain basic hygiene protocol puts staff in an impossible position as it gravely endangers patients and themselves. In Ethiopia, I met healthcare directors and volunteers who pointed out special cholera tents they had set up for recent outbreaks, but they had no place to wash their hands. What courage it took to come to work each day when they could get sick themselves.
Or imagine the impact on the healthcare workers who cared for a young pregnant girl who showed up at a rural hospital in Mexico, malnourished. Water was scarce and had to be divided among staff and patients. During labor this girl didn't have enough water to drink because most of the water allocated to her had to go to hand-washing and other indisputably vital activities during birth. Due to complications related to the lack of fluids, the girl and her baby died during labor. There was not being enough water to satisfy all of the needs of the hospital.
This global health crisis has persisted under the radar. The findings in the WHO/UNICEF first baseline report on WASH in healthcare facilities, sadly, don't surprise me. Most sinks and faucets that I've seen in rural clinics were not connected to any water supply, or were broken and filled with books and files; and many latrines were dirty, non-functioning or non-existent. Now with data from over 560,000 healthcare facilities in 125 countries, this report finds that 2 billion people use healthcare facilities that lack basic water services and 1.5 billion people have no sanitation services in their healthcare facilities.
This problem is solvable. Improving access to water, toilets and soap hinges not on scientific or technological breakthroughs, but on strong, integrated WASH and health systems. A system is the people, institutions, and resources that are needed to deliver healthcare and WASH services. The solution requires leadership and prioritization, globally and locally.
When UN Secretary General Antonio Guterres announced a Global Call to Action to get basic WASH into all healthcare facilities by 2030, it was a needed and historic first step. Now new commitments in development, ranging from historic private sector commitments announced in June in Washington DC, to 18 countries committed to actionable plans, just announced last week in Zambia, improvements to global health stability and security, as well as economic gains, could be monumental.
However, we also need a change in mindset. I urge caution to those who believe more water tanks or filters, handwashing stations, and latrines will be enough. Commitment to lasting WASH services is only as good as the commitment to the building blocks of strong systems that includes on-going maintenance, financing, and staff incentives to keep things clean.
I paid a telling visit to a rural health clinic directly across the road from the regional office of the NGO that had provided WASH infrastructure only a few years ago.
Given its proximity to the NGO, I had expected excellent conditions. Instead, the clinic director said that water had not flowed to the clinic for a year or more; doors were missing from both women's latrines; and spider webs were growing on the tops of the handwashing stations — meaning they hadn't been filled with water for many days, if ever. It was clear that there were no incentives or oversight to maintain adequate conditions, and no ongoing support from the local government or the NGO. They assumed everything would be fine after the intervention.
That's the lesson we should take from all these stories and statistics: without a strong supporting environment — training, regulations, money for maintenance, monitoring — WASH falls apart, and health suffers.
About the author:
Susan Davis, MPH, is a WASH and public health nerd based in Washington, DC.