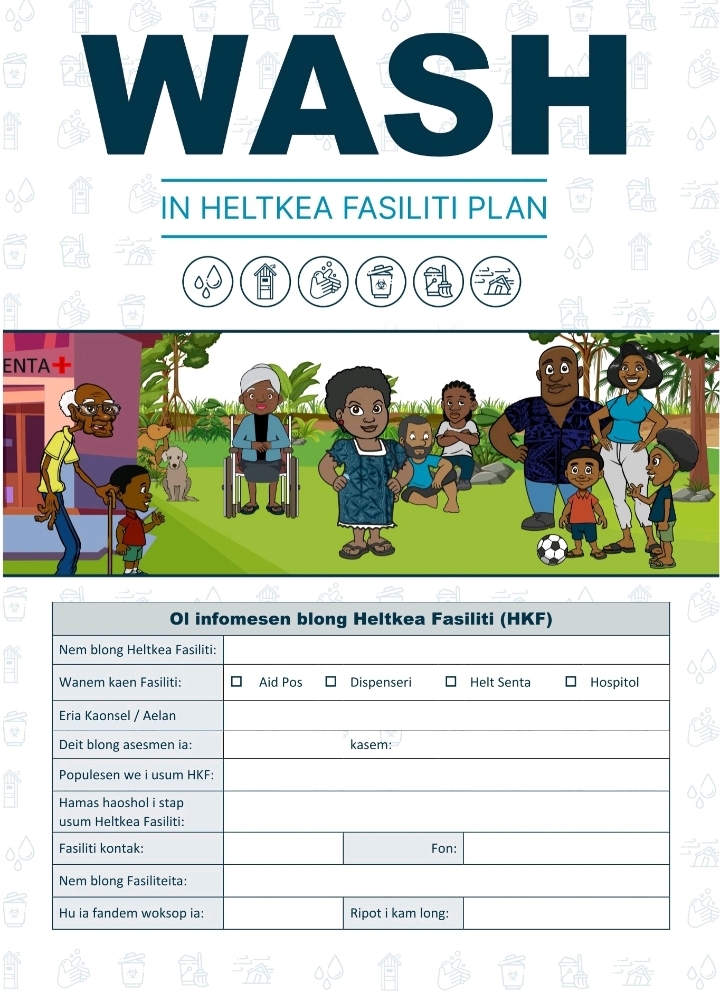 Integrating Disaster Risk Reduction and climate change adaptation in WASH in Healthcare assessment and planning
STORIES |
UNICEF
Introduction 
In Vanuatu, health-care facilities are struggling to adequately function during normal operation due to poor WASH services. Worse yet, natural disasters can substantially impose stress on existing WASH services impacting water supply, sanitation and hygiene infrastructure. In April 2020, Tropical Cyclone (TC) Harold hit Vanuatu and caused significant damage to WASH infrastructure in 98 health facilities.  Of the 98 facilities assessed, 18% reported non-functioning toilets and 45% reported damage to the facilities water systems. With WASH infrastructure damaged, health facilities ceased to provide essential medical care to the injured and sick or resorted to alternative, less safe water options, including rivers and streams. Provincial Emergency Operations Centers (PEOC) situation reports recorded numerous casualties, five deaths, and cases of diarrhoea, acute respiratory infections, acute fever amongst children and adults in affected areas as a result of inadequate water, sanitation, and hygiene conditions in health facilities and communities.  
Vanuatu is the most at-risk country for natural hazards in the world, an estimated 64% of the population is impacted by a disaster each year. The direct damage cost to WASH infrastructure in health care facilities during TC Harold was estimated at $ 1, 611, 930 USD. With climate change increasing the risks, an effective method for identifying and mitigating these risks in health facilities preparedness is crucial.  
This case study highlights key actions undertaken by Vanuatu government to integrate Disaster Risk Reduction and Climate Change Adaptation measures in assessment and planning to improve long-term sustainability of WASH services in HealthCare facilities in both peace and emergency. 
 
Method 
A national WASH in Healthcare facilities assessment tool, WASH in Heltkea (WinHK) template was developed by adapting the Vanuatu Department of Water Resources Drinking Water Safety and Security Plan template and WASH FIT template. Additional data and feedback was collected through key informant interviews with key staff from the Ministry of Health (MoH), Department of Water Resources (DoWR), and EWBNZ, and Hexagon WASH Specialist who led the development of the assessment tool. This additional feedback was incorporated into the tool.  
Results  
Recognizing the need to create resilient and strong water, sanitation, and hygiene (WASH) systems in healthcare facilities, the government of Vanuatu  created a national WASH in Healthcare facility (WinHK) assessment tool in collaboration with EWBNZ and UNICEF. The WinHK tool is a participatory process for healthcare facility (HCF) committees to review WASH and IPC related risk including climate risks and create an action plan to address those risks as part of continuous improvements and disaster preparedness. When facilitated at the facility level, it triggers disaster risk reduction actions whilst setting infrastructure provision standards that are climate resilient for system upgrades. In water stressed areas, solar pumped groundwater and other alternatives are recommended improvements to complement existing rainwater harvesting systems and to meet the water demand at the healthcare facility. Rainwater harvesting storage tanks have been reinforced with cyclone strapping to withstand strong gale force wind. The disaster risk reduction planning component of the WinHK tool encourages health committees to proactively carry out key early warning preparedness measures to safely manage and secure WASH infrastructure prior to onset of disasters. They are also encouraged to consider the location of WASH infrastructure in relation to natural disasters such as flooding and landslides. The template strongly supports participation of women and girls in healthcare facility planning and overall decision making. This combined approach all works towards achieving resilient and "Safely Managed" service provision as key target of the SDGs. The government of Vanuatu is implementing an innovative approach for WASH resilience focusing on providing health care facilities with the capacity to adapt and manage to climate risk, rather than just providing infrastructure.  
Conclusion
To ensure sustainable and equitable service at HCF, governments, stakeholders, and communities need knowledge and skills to identify and manage WASH risks associated with climate change and natural hazards prominent in Vanuatu. The WinHK tool contextualized and tested in four provinces will be used to develop climate sensitive improvement plans to support upgrade of resilient WASH services in healthcare facilities