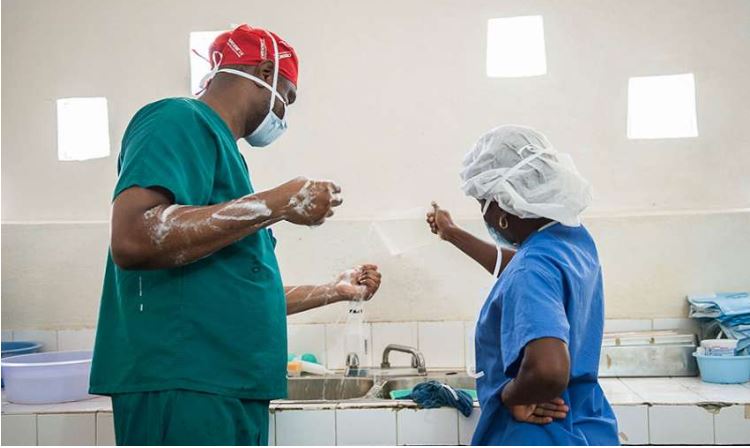 Safe Surgery – and UHC – hinge on water, sanitation and hygiene
STORIES |
This is a copy of a blog post written on Global Health Now, from the John Hopkins Bloomberg School of Public Health. To read it on the original post, visit https://www.globalhealthnow.org/2019-09/safe-surgery-and-uhc-hinge-wash.  
For anyone who performed surgery on landmine survivors, the need to ban the weapon was obvious. We were seeing kids with their limbs being blown off. It's little different to see a child in need of amputation from a preventable post-surgical infection that got out of control due to the lack of safe water in a healthcare facility.
While performing surgery in many developing countries in Africa, the Caribbean, and Asia, I have often had to boil water first. I've seen enough broken water pumps littering healthcare facilities, and empty water tanks for lack of pipes and safe water sources, to last a lifetime. This predicament is not limited to a handful of poor and neglected healthcare facilities, or even a handful of poor and neglected countries. That would be troubling enough. This phenomenon is global.
When the WHO declared that health is a human right, it was not just for some patients who need surgery, or for some mothers giving birth, or for some children with serious illnesses, or for some healthcare workers on the frontlines fighting pandemics like Ebola. It is in all our interests to cure this obvious barrier to delivering basic safe care.
Yet the state of hundreds of thousands of healthcare facilities in low- and middle- income countries is deplorable. Take into account that this data includes developed countries. Worldwide, 1/4 lack basic water services and 1/5 lack adequate sanitation services, leaving 2 billion people without access to safe, affordable surgical care. The WHO/UNICEF Joint Monitoring Programme for Water Supply, Sanitation and Hygiene, report—the first-ever effort to collect baseline water and sanitation data in healthcare facilities around the world, released last April—evaluated over 560,000 facilities in 125 countries. What it documents, unfortunately, does not come as a surprise to me.
Where does this absence of WASH leave us when it comes to safe surgery? More than 234 million surgical procedures are performed annually, and each one poses a risk. Many studies show that surgical site infections are the most costly, common—and dangerous—hospital infections. For surgeries in facilities without basic WASH, the risks are exponentially larger, making it nearly impossible to safely perform even the most basic surgeries. Yet that is what we are asking thousands of healthcare professionals to do. Consider that 17 million women give birth in health facilities without adequate water, soap and toilets every year.
"No one goes to a health care facility to get sick. People go to get better, to deliver babies, or to get vaccinated. Yet hundreds of millions of people face an increased risk of infection by seeking care in health facilities that lack basic necessities, including water, sanitation, hygiene, health care waste management and cleaning services," wrote WHO Director-General Tedros Adhanom Ghebreyesus, in the baseline report's intro. "Not only does the lack of WASH services in healthcare facilities compromise patient safety and dignity, it also has the potential to exacerbate the spread of antimicrobial-resistant infections and undermines efforts to improve child and maternal health."
What we have here is a health crisis of global proportion that puts patients and professionals at grave risk. Access to safe, timely and affordable emergency and essential surgical, obstetric, trauma and anesthesia care is overdue.
In May, the World Health Assembly passed Resolution EB144.R5, the first time the 194 WHO Member States jointly acknowledged and set out steps to tackle this WASH in healthcare crisis. In 2015, the World Health Assembly unanimously passed Resolution 68.15, which noted that strengthening emergency and surgical capacity together with anesthesia is a highly cost-efficient solution to the global burden of disease.
These Resolutions offer early roadmaps for action. But surgery remains unnecessarily dangerous. The next much-needed step is to integrate resolutions and calls for action into efforts to strengthen health systems to make surgery, and healthcare in general, safer. Cooperative partnerships between health, development, water and finance people must be formed at all levels—from high up among multi-lateral institutions and government ministries, down to the local health clinic and village administrators—to fill the gaps in budgets, compliance, training and especially important, installing, repairing and maintaining missing and crumbling WASH infrastructure.
James C. Cobey, MD, MPH, FACS, is an orthopedic surgeon and epidemiologist. He helped start the Campaign to Ban Landmines, for which he shares the Nobel Peace Prize with Physicians for Human Rights (1997). He is a founding board member of The G4 Alliance, an 80 member organization working in 160+ countries, advocating for global access to safe, timely and affordable surgical care with WASH as an integral component of surgery, obstetrics, trauma and anesthesia.